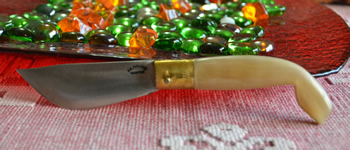 The Arbus knife or Arburesa is an utility knife switchblade, featuring a rounded blade and generally larger size of Pattadese.
Handle often curved in order to best accommodate the blade. Often, the handle is carved from a single piece of horn or done in fine Sardinian juniper. The nut and bolt are generally made ​​of brass or steel.
The Arburesa belongs to the category of so-called monolithic knives. The handle, often in the ram's horn or done in fine Sardinian juniper, is carved from a single block specially cut to accommodate the blade and usually embellished with sculptures which often represent the Sardinian fauna .
The Arburesa knife, along with " Pattadesa knows " and "Guspinesa" , is one of the most representatives of Sardinian knives . It is a knife is increasingly sought after as souvenirs or as a collector's item and why its price can vary significantly .
It ' important to note that each of the knives I sell is a unique piece , forged by a craftsman that certifies the execution of the art .
Each knife is in fact provided by a regular card that allows traceability of the craftsman who made ​​it .
Do not stretch objects of dubious origin, import , much less counterfeit . I'd rather pay a fair value when I buy , not to have bad surprises when I sell .
The sale is for a product never used before except for the normal controls ( clutch pin handle, check the edge of the blade ) .
Each knife comes with a carrying case provided by the artisan who has forged .
——————
Arburesa knife, cutlery Arburesa, Arburesa with special blade, Sardinians knives ,