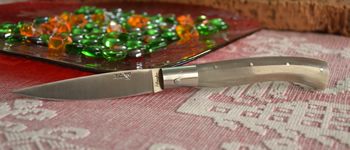 The knife is Pattadese utility knife switchblade , characterized by a slender blade , rather straight and sharp tip .
The handle is also smooth and straight in order to best accommodate the blade .
The shape of the handle, the most common mode is composed with two grips horn cattle and rivets and ring made of brass or steel.
Also known as " Sa resolza " was , and still is , the traditional pastoral knife , and the skill and craftsmanship of the artisans Pattada have meant that this became a source of livelihood and fame not only for those who produce it , but for the whole country, so that now the kind of knife is also called " pattada " or " pattadese ."
It ' important to note that each of the knives I sell is a unique piece , forged by a craftsman that certifies the execution of the art .
Each knife is in fact provided by a regular card that allows traceability of the craftsman who made ​​it .
Do not stretch objects of dubious origin, import , much less counterfeit . I'd rather pay a fair value when I buy , not to have bad surprises when I sell .
The sale is for a product never used before except for the normal controls ( clutch pin handle, check the edge of the blade ) .
Each knife comes with a carrying case provided by the artisan who has forged .

——————————————————————
Pattadese , Pattadesa , Pattadese knife, Pattadesa with special blade , Sardinians knives,